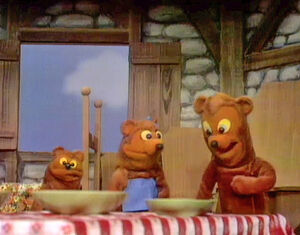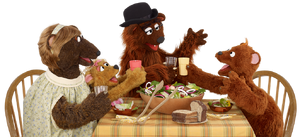 The Three Bears are the classic trio of fairytale ursines from Goldilocks and the Three Bears. They consist of a large papa bear, a medium-sized mama bear, and a tiny baby bear.
Anything Muppets
In the early years of Sesame Street, the three bears were represented by a trio of modified Anything Muppets. They appeared in two stand-alone sketches from season 3 with Goldilocks: one in which she helps the bears find out how many they are (First: Episode 0277), and another in which she teaches them about big, bigger and biggest (First: Episode 0284).
They were also seen in a sketch with Kermit the Frog in which he directs them in a play (First: Episode 2151), and they appeared in the final street scene from Episode 2442 as friends of Old Mother Hubbard's dog, with Richard Hunt performing Papa Bear.
The Four Bears
Other incarnations of the three bears appeared in books, but it wasn't until the 1990s that the family unit of Baby Bear, Papa Bear, and Mama Bear took up permanent residence on Sesame Street. In 2003, they were joined by a fourth bear, marked by the birth of Curly Bear.
References
See also