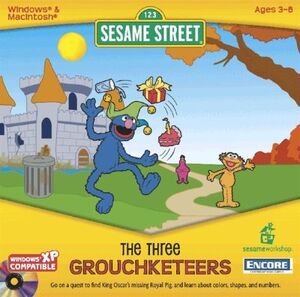 The Three Grouchketeers is a 1998 Sesame Street CD-ROM game for home computers released in 2005 by Encore Software and Creative Wonders.
This game is a spoof of Alexander Dumas' 1844 novel The Three Musketeers. Telly, Zoe and Grover are on a quest to find King Oscar's missing Royal Pig. Each has a special skill: Telly knows about shapes, Zoe is good with animals, and Grover reads very well. They must cooperate to complete their tasks.
Contents
"King Oscar's Royal Junk": Find items described by King Oscar.
"Fish and Birdie Pile Up": Help Zoe send the animals stuck in a traffic jam home.
"Telly's Tremendous Triangle": Match shapes to make a ramp over the town wall.
"Bridge-Building Blast": Put the right number of bricks into Grover's machine to build a bridge across the canyon.
"The Big Pig": The Grouchketeers must cooperate to rescue the Royal Pig from a mud pit.
"The Mud Ball": Pick an instrument for the Royal Pig to play at the Mud Ball.
Trivia
See also
Community content is available under
CC-BY-SA
unless otherwise noted.