The Tonight Show Starring Jimmy Fallon is the iteration of The Tonight Show hosted by Jimmy Fallon beginning in 2014 following Late Night with Jimmy Fallon.
Appearances
Image
Description

March 17, 2014

Kermit the Frog appears to promote Muppets Most Wanted and gives Jimmy Fallon a specially designed wrench for the Muppet Pipes. Later, he and Fallon sing "Bein' Green" to celebrate Saint Patrick's Day. (YouTube)

September 11, 2014

Elmo, Cookie Monster, Abby Cadabby, Oscar the Grouch, Grover, Murray Monster, and Big Bird appear, individually reading tweets with the hashtag #WhenIWasAKid. (YouTube)

June 18, 2015

Elmo serves as the guest announcer and shows how to make recipes from the book, Let's Cook! (YouTube)

August 14, 2015

Big Bird (performed by Noel MacNeal) appears in a segment for a game called Phone Booth. (YouTube)

January 14, 2016

Elmo, Abby, Cookie Monster, Big Bird, Count von Count and Ernie appear in the "Celebrity Photobomb" piece. (YouTube)

August 4, 2017

Rudy appears during the "Thank You Notes" segment. (YouTube)

January 7, 2019

Kermit sings "Rainbow Connection" and promotes the "Doodle for Google" contest. (YouTube)

February 11, 2019

Big Bird appears to promote the 50th anniversary of Sesame Street and the show's various outreach projects. (YouTube)

December 19, 2019

To celebrate the show's 50th anniversary, the Sesame Street Muppets (Big Bird, Elmo, Grover, Ernie, Bert, Rosita, Oscar, the Count, and an Anything Muppet bus driver) performed a rap variation of the "Sesame Street Theme" with Tariq Trotter and Fallon. (YouTube)
Mentions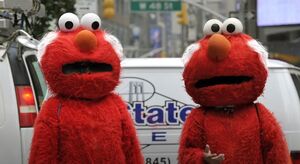 June 13, 2018 - During a segment in which Fallon interprets dinosaur-themed songs from tweets, he goes into a routine spoofing the Muppets' version of "Mah Na Mah Na". (YouTube)
December 2, 2020 monologue: "If Trump won in 2024, he'd be the first President to serve non-consecutive terms since Grover Cleveland. Which Trump thinks is the full name of the fuzzy blue Muppet."
January 21, 2021 monologue: Referencing the upcoming release of The Muppet Show on Disney Plus, Fallon claimed that the music was updated. A few clips played with dubbed hip-hop music.(YouTube)
January 28, 2021 monologue: Referencing a new Margaritaville resort in Times Square, Fallon suggests that "Elmo is about to get lit", showing a picture of a Times Square busker dressed as Elmo. (YouTube)
March 5, 2021 Thank You Notes: When Black Thought mentions that he called his grandparents "Peepaw" and "Meemaw", Fallon inquires if they were Muppets. Questlove plays a few bars of "Mah Na Mah Na".
March 23, 2021: New York state reduces the age to qualify for a COVID vaccine to 50, so Fallon suggests that the Times Square Elmos now have added grey hair.
In the monologue to the April 9, 2021 show, Fallon discusses the CDC announcement that surfaces were unlikely to transmit COVID-19. "This is a big relief, but I'm really going to miss my bath night with my groceries. Can of baked beans, you're the one."
On the April 14, 2021 broadcast, the Freestylin' with The Roots segment saw Fallon tell an audience member that Street Gang: How We Got to Sesame Street was set to debut, and ask who his favorite Sesame Street Muppet is. He suggests Elmo, and that Chris Hemsworth should play the tot in a live action movie. The resulting song is inspired (allegedly) by the series theme song.
On the May 12, 2021 episode, Fallon and Joel McHale play a game called A-to-Z, where each next line of their "conversation" needs to include the title of a film, starting with the next letter of the alphabet. After Fallon comments "Yeah, I almost belong on a Funny Farm", McHale replies "Boy, wouldn't that be a Great Muppet Caper."
On the November 8, 2021 episode, Fallon led the monologue with Big Bird's vaccination topping the infrastructure bill as the top story. He concluded that Big Bird had been signed to the Green Bay Packers, a reference to Aaron Rodgers. (YouTube)
On the March 2, 2022 episode, Fallon referenced Lauren Bobert and Marjorie Taylor Greene's booing of the State of the Union address as if "they're like the Q-Anon Statler and Waldorf."
In the May 19, 2022 monologue, Fallon says that President Joe Biden went out of his way to make the Swedish Prime Minister comfortable, "maybe too far," showing a dubbed clip where Biden speaks like The Swedish Chef. (YouTube)
In the May 25, 2022 monologue, Fallon commented on a product combining Oreo and Ritz crackers. One of the additional mashups he proposed was Chef Boyardee and Swedish Fish, to create Swedish Chefs. (YouTube)
In the June 21, 2022 monologue, Fallon talks about an episode resurfacing after being too scary (Episode 0847). He instead shows a segment with Big Bird discussing the different types of love, and a "jump scare" of an Elmo costumed character with Photoshopped eyes and a fire background (a reference to the "Elmo Rise" meme). (YouTube)
Connections
See also