The Tonight Show Starring Johnny Carson is the iteration of The Tonight Show hosted by Johnny Carson from 1962 to 1992 with Ed McMahon as his sidekick.
Kermit the Frog guest hosted the show for Carson in 1979, while Grover performed "Near and Far" for the first time in the 1969-1970 season.
Appearances
Image
Description

September 6, 1965

Kermit appears, along with Bill Cosby.[1]

November 23, 1965

Kermit features in a Thanksgiving-related appearance.[2]




December 31, 1965

Two sketches were performed. In one a Whatnot continually knocks at bandleader Skitch Henderson's door as he gets drunk and sings "Let Me In". Immediately afterward, Kermit performed "The Glow-Worm" sketch with Big V. This episode was released on the DVD, TONIGHT: 4 Decades of The Tonight Show Starring Johnny Carson.

January 13, 1966

Performed "Money" and "Sclrap Flyapp."[3]

1968

August 1968

"Visual Thinking" and "I've Grown Accustomed to Her Face"[5]

October 29, 1968

Performed "Beautiful Day."[6]

September 26, 1969

Jim Henson, Frank Oz, Don Sahlin, and Danny Seagren perform The Glow-Worm (with Kermit and Big V) and Sclrap Flyap. (This was the tenth Muppet appearance on The Tonight Show.)[7]

1970

Grover performs "Near and Far."

January 23, 1974

Jim Henson and Dave Goelz perform Limbo: The Organized Mind; Jim and Kermit are interviewed by Johnny Carson, and Kermit sings "Bein' Green".




May 24, 1974

Frank Oz and Jim Henson puppeteer Piggy Lee and Hamilton Pig, who perform "That Old Black Magic", Kermit and Grump perform "Visual Thinking", and Henson discusses his art of Muppetry.[8]

March 18, 1975

Dr. Teeth, in his debut, sings "Love Ya to Death"; Jim and Kermit are interviewed to promote The Muppet Show: Sex and Violence. (YouTube)




July 25, 1975

Kermit the Frog (in a wig) and Yorick sing "I've Grown Accustomed to Her Face" and Jim Henson discusses the art of puppetry with the help of Dr. Teeth. Henson explains that he cannot perform Kermit because he has a cold, so Dr. Teeth sings his own rendition of "Bein' Green".

September 14, 1976

Jim Henson and Frank Oz perform a live sketch with the Swedish Chef, followed by a short interview with Kermit and Fozzie Bear. Jim Henson talks about his new series, The Muppet Show. He shows a clip of the "Rag Mop" number, with behind the scenes footage showing the puppeteers performing the Raggmopps.

September 13, 1977

Kermit sings "Happy Feet". Jim discuss the second season of The Muppet Show, showing a full clip of "Pigs in Space" from episode 209. Carson does a short interview with Link Hogthrob.

April 2, 1979

Kermit the Frog guest hosts, with guests Vincent Price, Bernadette Peters, Leo Sayer, and veterinarian Dr. Michael Fox.

July 12, 1984

Johnny Carson interviews Miss Piggy to promote The Muppets Take Manhattan. A clip is shown from the department store scene with Joan Rivers. Piggy sings "My Funny Valentine" to Carson.

April 17, 1989

Jim Henson and Kermit promote The Jim Henson Hour with guest host Jay Leno. A clip of Jacques Roach is shown. Other guests included Loretta Lynn and Tom Brokaw.
Mentions
November 2, 1979: During a monologue piece about Sweeps Week, Carson mentions an upcoming episode of The Muppet Show where "Miss Piggy exposes her loins."
References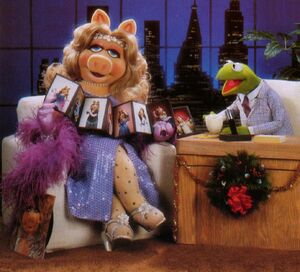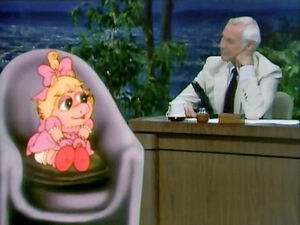 In Episode 0560 of Sesame Street, Big Bird hosts a show that opens with an offshoot of Carson's famous theme music. He asks for a music cue from "Skitch," referencing Skitch Henderson (bandleader during Steve Allen's tenure, and then with Carson from 1962 until 1966).
The Sesame Street video, Learning About Numbers, has a framing story with Big Bird hosting a Tonight Show-esque program. He at one point calls out "Tommy" in the band, referring to Tommy Newsom, saxophone player for the band and occasional band director and substitute for Ed McMahon.
Frequent guest host Jay Leno appeared in a Sesame Street skit with Big Bird. When Big Bird learns that his friend "Johnny" is unable to come play, Jay appears to sit-in for Johnny (something he says he loves doing). Leno fills Johnny's chair and the two play "One of These Things." Afterwards Big Bird remarks that "he really was good at sitting-in for Johnny."
In Episode 4025 of Sesame Street, Aladdin's Genie takes the day off. He poofs himself into a golfing outfit and exclaims, "Heeeere's Genie!" while swinging his club.
The Sesame Street sketch "Baby Talk," a talk show hosted by Natasha, featured two specific references to The Tonight Show Starring Johnny Carson. The segment's theme, played by an all-baby band, was a spoof of "Johnny's Theme." The announcer (Jerry Nelson) also introduces the host saying "Heeeere's Natasha!"
Episode 4173 of Sesame Street featured two inserts in which Big Bird presents Snuffy (by saying "Heeeeeeeeere's Snuffy!"), followed by a short riff of "Johnny's Theme".
Sources
External links