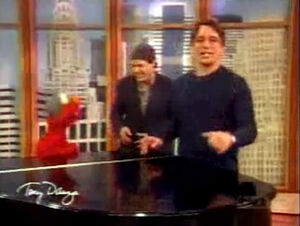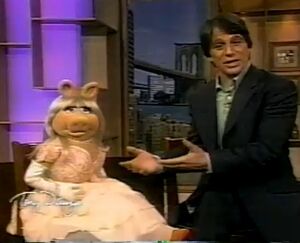 The Tony Danza Show was a nationally syndicated talk show which ran from 2004 to 2006, hosted by actor Tony Danza. The Muppets made many appearances on the show:
Elmo appeared on October 11, 2004 and again on April 11, 2005.
Statler and Waldorf were guests on Tony's show on May 16, 2005 as part of the Muppets' Wizard of Oz promotional rounds.
Miss Piggy appeared on May 23, 2005 to show a report by Kermit and herself on the red carpet of the Daytime Emmys. In the segment, they met Susan Lucci (All My Children), Rachel Ray (30 Minute Meals), LeVar Burton (Reading Rainbow), Lisa Rinna (Days of our Lives) and Harry Hamlin, Alex Trebek (Jeopardy), and Aretha Franklin, among others. (YouTube)
LeVar Burton commented on Tony's lack of nomination: "that is a travesty of a sham of a shame of an injustice, of an absolute abomination." Kermit's reply? "That is exactly what we say!"
Kermit and Miss Piggy were on the show again on November 3, 2005 to talk about Kermit's 50th anniversary, and the prospects of America's Next Muppet.
On November 10, 2005, Elmo stopped in once again to promote the latest Sesame Street DVDs and just have fun with Tony.
On February 10, 2006 Tony interviews actor T.R. Knight from Grey's Anatomy, who is a big Jim Henson fan citing Sesame Street, The Muppet Show and The Dark Crystal as influences on his life. He speaks about letters he wrote to the Henson company and how he mourned for Jim when he passed away. Tony wraps up the interview by introducing a surprise guest: Elmo, who is wearing a cap similar to T.R.'s, which is concealing a bad haircut that would be featured in a later episode of Grey's Anatomy.
Appearances
October 11, 2004 - Elmo
April 11, 2005 - Elmo
May 16, 2005 - Statler and Waldorf
May 23, 2005 - Miss Piggy (in studio); Miss Piggy and Kermit (on red carpet)
November 3, 2005 - Kermit and Piggy
November 10, 2005 - Elmo
December 20, 2005 - Kermit and Piggy attempt to sing "Have Yourself a Merry Little Christmas" with Tony.
Community content is available under
CC-BY-SA
unless otherwise noted.