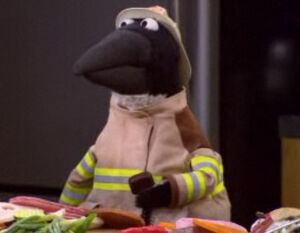 The Towering Inferno is a 1974 disaster film about a San Francisco skyscraper that catches ablaze on the night of its dedication, trapping hundreds of people inside. Drawing similarities to the Titanic, the building's owners and architect make presumptuous claims about the structure's safety, which is met with objection by the city's fire chief (played by Steve McQueen). This results in a moral lecture from the chief at the end of the film about consulting with fire professionals about how to ensure safety in public structures rather than cutting corners to save on costs.
References
In the Muppets Kitchen with Cat Cora episode "World's Biggest Sandwich," Angelo thinks Cat wants to make a big sandwich, but she explains that by "Big Sandwich Show," she meant the show would be big. As Cat prepares a recipe, construction of a mammoth sandwich commences off-camera. The Newsman cuts in with a news bulletin about the sandwich being in danger of collapse. A penguin fire chief arrives on the scene to handle the situation and asks, "When are you guys gonna learn, you can't scale higher than triple decker?" After the sandwich gives way, covering Cat and Angelo with cold cuts, he returns and makes the following statement under dramatic music: "You know, we were lucky tonight. Casualties were light. But one of these days, a sandwich like this is gonna rack up a body count and a whole lotta calories... until somebody asks us how to build 'em."
Connections
Community content is available under
CC-BY-SA
unless otherwise noted.