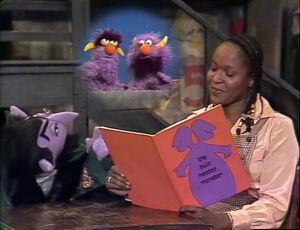 The Two-Headed Monster is a story from Sesame Street which Olivia reads to Count von Count. (First: Episode 1121)
It tells the story of the character of the same name whose names in this case are Horn and Hardart. As usual, the two heads are arguing with each other, this time about what to do with their time. One head wants to lift a barbell, and the other wishes to play doctor. After that, one feels the urge to play the piano, while the other one desires to feed on a salami and cheese sandwich. So they resolve this conflict with cooperation, and make time for all four activities, proving the truth of the old saying that two heads (as well as two noses and four eyes, as the Count observes) are better than one.
Notes
Because the Count was involved with this particular sketch, some rearranging had to be done with the two-headed monster's voices. The head usually performed by Jerry Nelson was taken over by Richard Hunt, while his typical head was done by Peter Friedman.
Community content is available under
CC-BY-SA
unless otherwise noted.