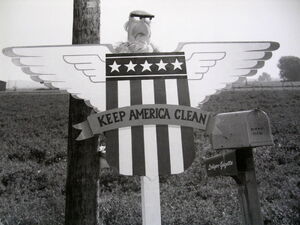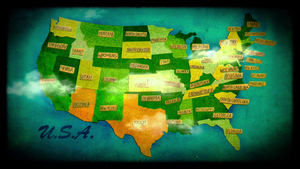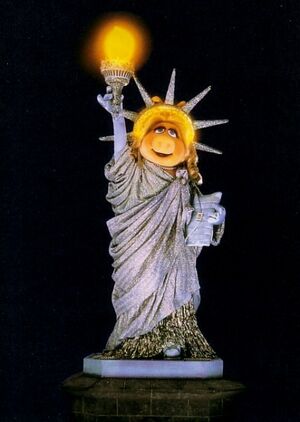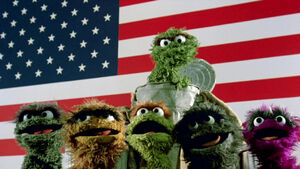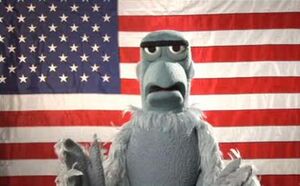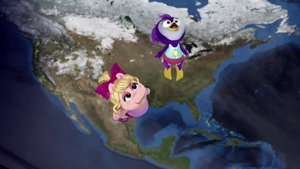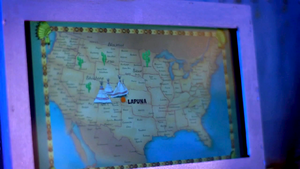 The United States of America is a country in North America. It is bordered on the north by Canada and to the south by Mexico. It is comprised of 50 states, one federal district, and several territories. The United States of America is also referred to, with varying formality, as the United States, America, the US, the USA, the US of A, or the States. Since the twentieth century the United States has emerged as the dominant global influence in economic, political, military, cultural technology, entertainment, music, movies, and television. The country celebrates its founding date as July 4, 1776.
America is the birthplace of both Jim Henson and the Muppets, and has been the home of the Muppets for over 50 years (excluding the brief period when the Jim Henson Company, and thus the Muppets, were owned by a German media conglomerate, EM.TV).
Over the years, the Muppets have reenacted many moments in American History; including Sesame Street's The American Revolution and Muppets Tonight's Great Moments in Elvis History. Miss Piggy has often been cast in the role of the Statue of Liberty, a symbol that represents a welcome to immigrants and a refuge from oppression.
The character of Sam the Eagle is an outspoken American patriot. Fozzie Bear sings the patriotic song "America" in The Muppet Movie as the Muppets travel across the country. (As he explains, "Patriotism swells in the heart of the American Bear.") The finale of Muppet*Vision 3D is titled, according to Sam, "A Salute to All the Nations of the World, but Mostly America". This production number ends when the Swedish Chef blasts a hole in the theater with a cannon.
A map of the Unites States of America appears during the opening monologue of The Muppets. Similar to the map of Smalltown, the map appears to be created by a child, possibly Walter, and contains the following misspellings: Conneticut, Nedraska and Kentuky. The map erroneously labels Alabama as Mississippi and labels Mississippi as Arkansas. Interestingly, Arkansas is also correctly labeled, so the map has two Arkansas.
States, Districts, and Territories
See also