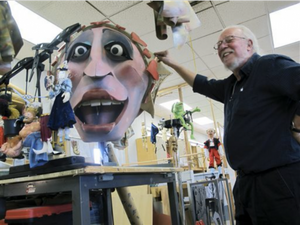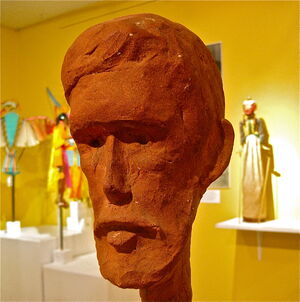 The University of Connecticut is a school that was founded in 1881 for agriculture in the town of Storrs, Connecticut. UConn is home to The Puppet Arts Program and The Ballard Institute and Museum of Puppetry.
In 1964, Professor Frank Ballard founded the Puppetry Program at the University of Connecticut. In 1990, Bart P. Roccoberton succeeded Ballard as Director of the Puppet Arts Program.
Jane Henson was a longtime supporter of the university's Puppet Arts Program. Henson taught in the Puppet Arts program, sent guest artists to the school, provided financial support and scholarships, and served on the board of the Ballard Institute and Museum of Puppetry.[1]
The University of Connecticut is the only university puppetry program to give BFA, MA, and MFA degrees in Puppetry in the United States. Graduates who later worked with the Muppets include Pam Arciero, Jan Rosenthal, Richard Termine, Tim Lagasse, Mark Gale, Frankie Cordero, Lara MacLean, Heather Asch and Jennifer Barnhart.
Henson Exhibits
The Ballard Institute and Museum of Puppetry, or BIMP, is a museum that has its origins in 1987 to preserve the puppets that Professor Ballard had built. In 1992, the space was officially renamed The Ballard Institute and Museum of Puppetry.
The Ballard Institute and Museum of Puppetry has been the home of several Henson artifacts, and has been the loan site of puppets from The Jim Henson Legacy.
The museum's collection includes the Wizard puppet (from The Wizard of Id pilot) and a bust of Jim Henson sculpted by Howdy Doody puppet builder Margo Rose. Previous items, on display between 2008 and 2013, have included Scooter puppet from the 1970s and a Baby Cookie Monster puppet from Sesame Beginnings.
Scholarships
Shortly before her death, Jane Henson donated $100,000 to the UConn Foundation to support the study of puppetry. The gift was used to establish a scholarship fund to support students who major in puppet arts.[2]
Sources
External links
Community content is available under
CC-BY-SA
unless otherwise noted.