The View is a daily talk show produced by and featuring ABC News correspondent Barbara Walters. Current co-hosts include Whoopi Goldberg, Raven-Symoné, and Candace Cameron Bure; former co-hosts have included Elisabeth Hasselbeck (2003-2013), Jenny McCarthy (2013-2014), Rosie O'Donnell (2006-2007), Sherri Shepherd (2007-2014), and Meredith Vieira (1997-2006).
The program celebrated its 2000th show on February 2, 2006 and started its tenth season that fall. It airs on ABC.
Appearances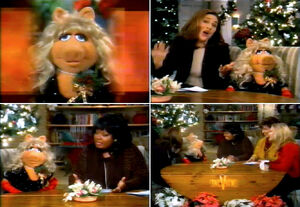 September 19, 2006: Shortly after his world-premiere on the Today Show, Rosie O'Donnell reveals the new T.M.X. Elmo to her audience and puts the first one to come off the assembly line up for auction, marked with the number 1 and autographed by Elmo Muppeteer Kevin Clash, and Mattel President Neil Friedman.
September 27, 2006: O'Donnell presents the results for the auction of the first T.M.X. Elmo. The show raised $4,200 for the Boys & Girls Clubs of America. By matching the $4,200 donation, viewers will receive their own T.M.X. Elmo signed by all four ladies of The View.
August 8, 2014: The Muppets take over the program in promotion with the video release of Muppets Most Wanted. Appearing Muppets included Kermit, Miss Piggy, Fozzie Bear, Pepe, The Swedish Chef, Dr. Bunsen Honeydew, Beaker, Gonzo, Animal, Rowlf, Bobo, Statler and Waldorf.
April 21, 2015: Kermit appears to talk about a new species of frog discovered that the media has identified as looking just like him. (video)
Muppet Mentions
References
External links