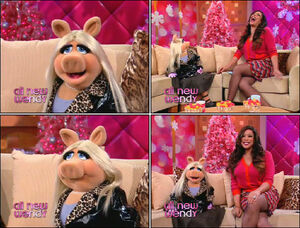 thumb|300px|right The Wendy Williams Show is a talk show that debuted in 2008, and currently airs on BET.
Miss Piggy appeared on the show on December 18th, 2009. She commented about Kermit's faithfulness, in contrast to Tiger Woods: "My Kermie is nothing like him, I just want to say. He would never do anything untoward moi... BUT! If he did, you can rest assured there'd be a hole in one, and he'd be the one!"
External links
Community content is available under
CC-BY-SA
unless otherwise noted.