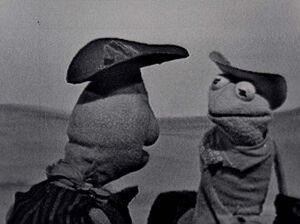 "The Westerners" was an occasional sketch on Bob and Ray's radio show, about two cowboys (names changing) who continually had difficulty with their horses. At least two sketches were written and performed, but the most frequently repeated had the pair struggling to get off of their steeds. It was used during their run on New York station WOR (1955-1957).
The skit was redone, with better audio quality and music intro, as "Two Face West" on their 1960 RCA-Victor stereo album Bob and Ray on a Platter. The source skit was later released with sound checks as part of Bob and Ray The Lost Episodes, Volume Four (2002).
The radio soundtrack was used on Sam and Friends with Kermit the Frog (dubbed to Bob Elliott) and Chicken Liver (dubbed to Ray Goulding) as two cowboys who are having a little trouble getting off their Muppet horses. Typical Bob and Ray dialogue ensues: "Wish I could help you but I'm facing the wrong way."