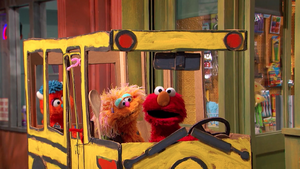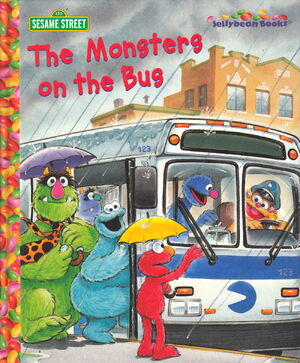 "The Wheels on the Bus" is a popular children's song, in the public domain, which repeats the movements or sounds made by the bus's parts and occupants. A version performed by Ernie, Bert and the Kids has appeared on several Sesame Street albums. The song was the basis for the 2001 book The Monsters on the Bus. It was prominently featured in the 2013 sound book Sesame Street Bus and also a selection in the computer game Baby & Me (1999) and the sound book Elmo's Rock Star Guitar (2002).
On Sesame Street itself, the song was prominently featured in episode 3920 (from 2001), as the favorite song of Lulu, who sings it for most of the episode (later including lyric alterations). Other known uses, often with altered lyrics, include "Elmo's World: Bicycles," Episode 4163 (2008), and Episode 4915 (2019).
An animated music video of the song featuring Abby Cadabby originally premiered as web video in 2015, and later appeared on Sesame Street. (First: Episode 4915)
The song is also featured in a Disney Junior Music Nursery Rhymes video starring the rebooted Muppet Babies (minus Baby Animal).
A remix of the song about firetrucks featuring Elmo, Grover and Gabrielle (as Firefighters) along with a Firetruck was released on YouTube in March 2021. (YouTube) A second remix about farm animals (and featuring the same main trio along with a chicken, horse, and cow) was released a month later. (YouTube) A third remix was released in May 2021 featuring Grover (as a bus driver) along with Elmo, a dinosaur, an alligator, and a Honker. (YouTube) All of these remix videos were directed by Noel MacNeal.
Tarah sang a song about her wheelchair to the tune of the song in Episode 3393.
Releases
Video
Audio