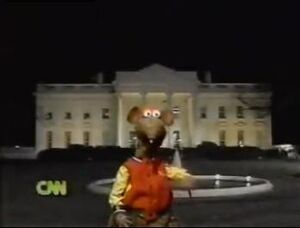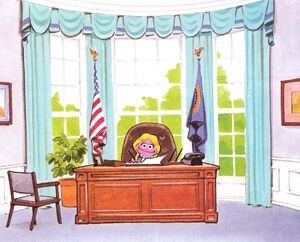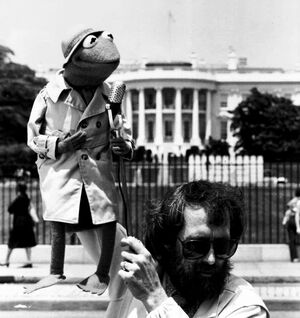 The White House is the official home and principal workplace of the President of the United States of America. The White House is located at 1600 Pennsylvania Ave. in Washington, DC.
Appearances
December 14, 1976: Betty Ford hosts Big Bird, Loretta Long, Will Lee, Sonia Manzano, and Northern Calloway for the Diplomatic Children's Christmas Party.[2][3]
June 26, 1995: Big Bird and Alice Snuffleupagus appeared in an event in the White House sculpture garden alongside first lady Hillary Clinton as the White House stepped up its effort to save federal funding for public television.[6]
November 14, 2003: Joan Ganz Cooney was honored by the National Endowment for Humanities with a National Humanities Medal. The award was presented to Cooney by President George W.Bush in an Oval Office Ceremony.[9]
2013: Big Bird and Michelle Obama taped two public service messages for the initiative Let's Move! at the White House. One takes place in the White House kitchen and the other in the East Room.
October 30, 2013: Elmo and Rosita appeared with Michelle Obama at a press conference in the State Dining Room announcing their involvement in the Let's Move! campaign.
March 12, 2014: Kermit the Frog joined Michelle Obama and Chairman of the Joint Chiefs of Staff, General Martin Dempsey, to introduce a screening of Muppets Most Wanted presented by the Joining Forces Initiative for a group of military children and their families.
References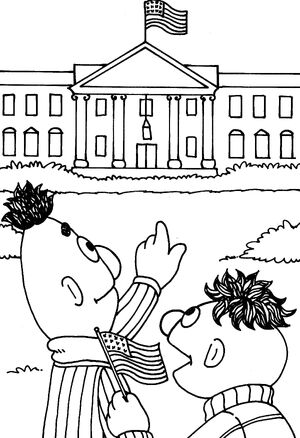 The "Elmo the Musical" segment, "President the Musical," features the White House, only President Elmo has it changed to red.
See also
Sources
External links