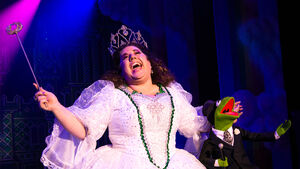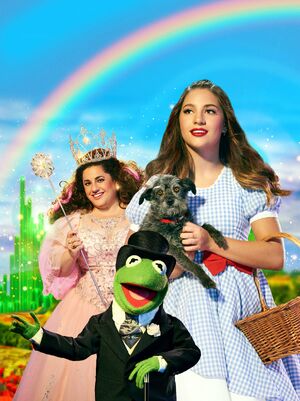 The Wonderful Winter of Oz is a stage production of The Wizard of Oz performed in a limited engagement from December 14-30, 2018 at the Pasadena Civic Auditorium in California.
Kermit the Frog played the role of The Wizard in the production presented by Lythgoe Family Panto (co-founded by The Muppet Show floor director and choreographer Nigel Lythgoe).
Songs include "Whatever it Takes" by Imagine Dragons, "Boot Scootin' Boogie" by Brooks & Dunn, "Dangerous Woman" by Ariana Grande, "Havana" by Camila Cabello, and Kermit singing "Rainbow Connection".
Cast
Press release
"

Lythgoe Family Panto (LFP) in association with the Pasadena Civic Auditorium, announces Kermit The Frog® as the Wizard of Oz and Marissa Jaret Winokur (Celebrity Big Brother Winner and Hairspray) as Glinda in their newest production – THE WONDERFUL WINTER OF OZ at the Pasadena Civic Auditorium, (300 East Green Street, Pasadena CA 91101) which will play a strictly limited engagement from December 14 through December 30, with the official press opening on December 14.

The production will be directed by Bonnie Lythgoe and choreographed by Napoleon and Tabitha D'umo (NappyTabs), with book by Kris Lythgoe and Michael Orland (American Idol) serving as musical arranger and supervisor. Casting is by executive producer Becky Lythgoe. Additional casting will be announced at a later date.

An updated version of the beloved classic, in the style of a traditional British family Panto, THE WONDERFUL WINTER OF OZ features family-friendly magic, with a comedic twist, dancing (with "So You Think You Can Dance" alumni), contemporary music and more.

"We are so excited to welcome Kermit and Marissa to the Lythgoe Family along with more talented star names yet to be announced. We know Pasadena is in for a great family show!" said Kris Lythgoe.

"Over the years, I've brought my nephew Robin and many of his fellow tadpoles to these Lythgoe Family Pantos. We always had a great time! Now at last, I get to hop up on stage with Marissa and the cast to be a part of the fun. If you thought Muppet productions were wild, just wait till you see what the Lythgoes have planned for this year! See you there! " said Kermit The Frog®.

Marissa Jaret Winokur said, "I have taken my son Zev to the Pasadena Panto for years as it's the perfect introduction to theater for children, keeping the whole family entertained with comedy and pop songs. It's also been a dream to perform alongside Kermit the Frog, only the Lythgoes could make that happen and I am looking forward to creating some magic with them, somewhere over the rainbow!"[1]"
Sources
↑ americanpanto.com/news September 12, 2018
External links