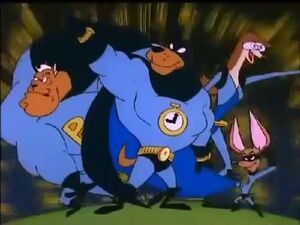 The Woof Pack was a team of canine superheroes who appeared in the third season of Dog City. Led by the Watch Dog, the group included Plastic Lassie (a flexible female collie), the musclebound Pectoral Pooch, the sound-sensitive Hear Boy, and Wonder Whelp. The group was featured in comic vignettes, approaching mundane tasks like grocery shopping from a superheroic perspective.
Community content is available under
CC-BY-SA
unless otherwise noted.