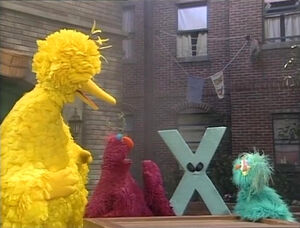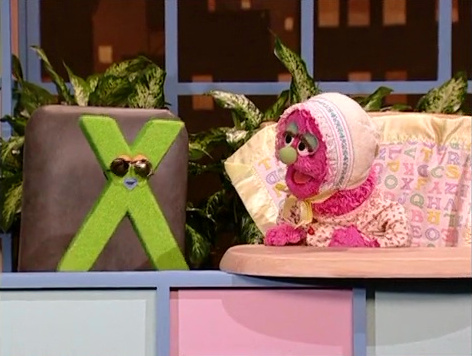 The X-Files is a television series that aired from 1993 to 2002. The premise follows agents of the FBI who investigate cases of the paranormal or supernatural. The popular series spawned two theatrical films, comic books, video games and other media and merchandise, with the characters of Scully & Mulder showing up as number thirty two on Bravo's list of the 100 Greatest TV Characters.
References
The Muppets Tonight pilot featured a brief spoof on the name of the series in Gonzo's line-up of KMUP programming: "X-Flies" was scheduled to air at 9:00 on Fridays.
The structure of Sesame Street Episode 3833 follows an X-Files theme as Telly follows the mystery of a strange-looking X, about which no one else will believe in. Telly's X-sightings are scored by a xylophone playing a variation on Mark Snow's X-Files theme. In a fit of frustration, Telly shouts the tagline from the series, "The truth is out there!"
A "Baby Talk" sketch features Baby Natasha talking to the letter X, who is introduced by an announcer (Jerry Nelson) as the star of The X-Files. The baby band underscores the letter's entrance with music that parodies Mark Snow's theme from the TV series.
In Miss Piggy's Rules, Miss Piggy suggests calling your ex-boyfriend's house repeatedly whenever X-Files is on as a way of getting even after a breakup.
In the Elmo's World episode "Exercise", the Exercise Channel tells viewers that "The Xercise Files is coming up next.
Mentions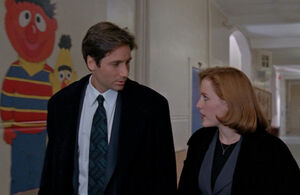 In the season four episode "Max", Mulder describes an item under x-ray over the phone with Scully, "More people are trying to get their hands on this thing than a Tickle Me Elmo doll." The episode aired a few months after the holiday shopping season where the dolls were consistently sold out in stores.
Connections
Community content is available under
CC-BY-SA
unless otherwise noted.