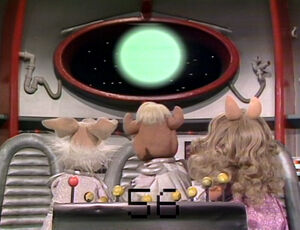 The meaning of life is a frequently-questioned subject, dealing with the significance and role of life on not only this planet, but the Universe.
The answer to the question was nearly reached by the crew of the Swinetrek in episode 501 of The Muppet Show. As the crew reaches the edge of the universe, they learn they will discover the meaning and purpose of life, but are too impatient to stick around to find out, missing out on the answer. The Newsman apparently received the answer, only to misplace the sheet of paper. The Announcer found out but refused to tell, taunting, "I know something you don't know!"
The subject was also tackled upon in two Panel Discussions on The Muppet Show: episode 109 (What is man's role in the universe?) and episode 110 (the meaning of life). Dinosaurs took on the question in the season four episode "The Greatest Story Ever Sold."
"Why Are We Here?" served as the topic for Kermit the Frog's speech at the 2014 TED conference in Mississippi.
In a 2016 appearance in the "Big Questions with Even Bigger Stars" segment on The Late Show, host Stephen Colbert asked guest Kermit the Frog if he ever wondered why we're here. Kermit responded: "I think it's because your people reached out to my agent." (YouTube)
Perspectives
Paul Williams and Kenny Ascher:
Elmo:
Pete:
See also
Sources
Community content is available under
CC-BY-SA
unless otherwise noted.