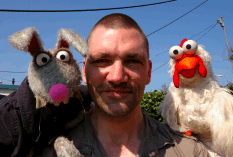 Theo Maassen (b. December 8, 1966) is a Dutch comedian and actor who played Stuntkip's neighbor in an Angsthaas and Stuntkip sketch in the 2008-2009 season of Sesamstraat, the Dutch co-production of Sesame Street. In this sketch Stuntkip's ball flies into the neighbor's garden. Stuntkip wants to ask her ball back, but Angsthaas thinks she'd better not, because the neighbor might get angry.
Maassen is considered one of the best comedians of the Netherlands. He won two of the most important comedy contests in the Netherlands in 1990, the Groninger Studenten Cabaret Festival and Cameretten. In the same year he became one of the first members of Comedytrain, the first stand-up comedy collective in the Netherlands. One of his fellow members is Sesamstraat writer Cindy Pieterse.
Up till now he made seven comedy theater shows. The sixth one, Zonder pardon (Without Mercy), was recorded by Norbert ter Hall, who used ten cameras simultaniously to tape the show, and made into a film that hit Dutch movie theaters in 2009.
In addition to his comedic work, Theo Maassen is an actor. He graduated from the Academie voor Drama in the city of Eindhoven in 1991. He played roles in several movies and television series, for example Paul Verhoeven's Zwartboek (Black Book) and Minoes (English title: Undercover Kitty), alongside Wim T. Schippers and Paul Haenen who voiced two cats. Maassen's comic song Lauwe pis (Lukewarm Piss) peaked at #1 on the Dutch Top 40 in 2007.