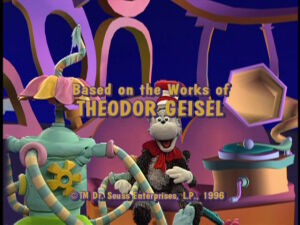 Theodor Geisel (March 2, 1904 - September 24, 1991) was a children's author-illustrator and commercial cartoonist, best known by his pen name, Dr. Seuss.
Taking his professional name from his middle name (his mother's maiden name, which rhymes with voice in its original pronunciation), Seuss wrote more than 60 books, including And to Think That I Saw It on Mulberry Street, Green Eggs and Ham, Horton Hears a Who!, and The Cat in the Hat. His writing was distinguished by his complex rhyme schemes (often using anapestic tetrameter) and the creation of unusual or elaborate names and words, such as Sneetches or Oobleck. Geisel's illustration style was highlighted by his trademark horseshoe eyes for characters and teetering, elliptical towers and loops in architecture.
All of these elements were incorporated by The Jim Henson Company into the 1996 series The Wubbulous World of Dr. Seuss, which made use of many of the characters created by Geisel (The Cat in the Hat, Horton the Elephant, The Grinch, Sam-I-Am, and others), as well as creating new characters and landscapes by melding the Seuss style with the Muppet aesthetic.
That same year, Jim Henson Pictures optioned the rights to a live-action version of the Seuss book Oh, the Places You'll Go!. The film was never produced.
Muppet set designer William Beeton cited Geisel, along with Henry Moore, as part of the inspiration for the soft curves and arches in the caves of Fraggle Rock.
Geisel's other work included countless political cartoons and scripts for WWII propaganda films, the occasional adult book such as The Seven Lady Godivas (1939), and the screenplay for the movie The 5,000 Fingers of Dr. T, which featured Seussian architecture and costume elements.
References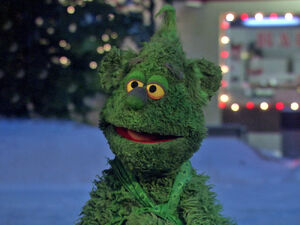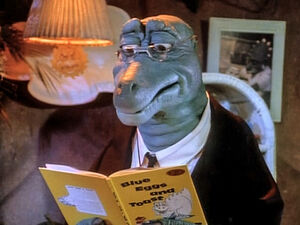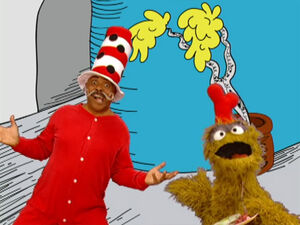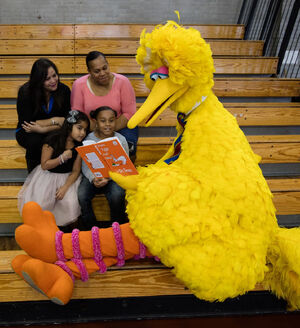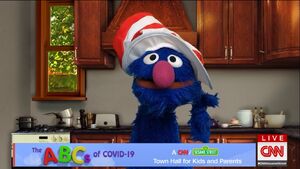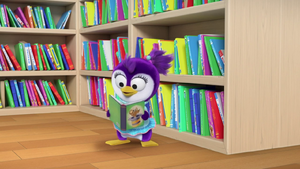 Episode 2960 of Sesame Street reveals Wolfgang's favorite book is One Fish, Two Fish, Red Fish, Blue Fish.
The Sesame Street song "Doing the Family Thing" includes a shot of a woman reading I Can Read with My Eyes Shut to a kid.
The season three Animal Show episode "Fish" references the book One Fish, Two Fish, Red Fish, Blue Fish.
On Muppets Inside, one of the suggestions to a question on Trivial But True! is The Grinch.
Fozzie Bear was mistaken for the Grinch in a sequence from It's a Very Merry Muppet Christmas Movie, after being accidentally painted green. The scene features two "Who"-like characters in elaborate make-up, specifically referencing the 2000 How the Grinch Stole Christmas film adaptation.
The closing scene of Episode 4135 of Sesame Street features Oscar reading Slimey Rotten Eggs and Jam by Dr. Sewage, featuring Scram-I-Am and Gordon as a Cat in the Hat-esque character. Earlier in the street story, a Dr. Seuss book is seen at the Sesame Street Library.
Grover wears a Cat in the Hat hat in The ABCs of COVID-19 as part of an unsuccessful attempt to explain the concept of "mindfulness" (which he thinks means when you wear a big hat on top of your head and you let your mind fill it all up).
Book Connections
In addition to his own illustrations and writing, Geisel oversaw many sub-series under the "Dr. Seuss" label and collaborated with other artists under such pen names as Rosetta Stone and Theo LeSieg (Geisel backwards). Many of these artists also worked on Muppet/Sesame Street books.
Connections
Many actors, puppeteers, and other crew members worked on both Muppet/Henson productions and Dr. Seuss adaptations for film, TV, or stage.
Trivia
External links