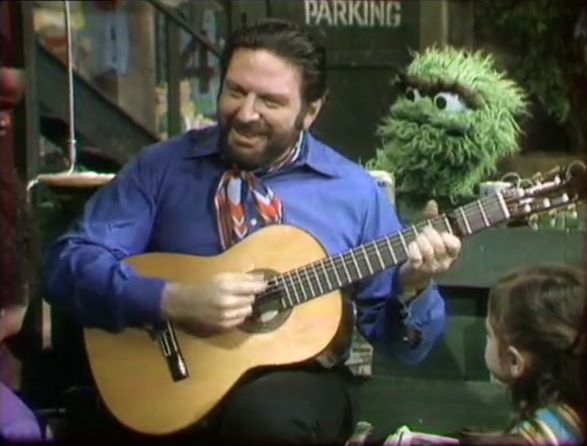 Theodore Bikel (1924-2015) was an actor, folk singer, and Jewish folk historian, perhaps best known for his countless stage tours as Tevye in Fiddler on the Roof. Bikel guest starred on Sesame Street during the second season, appearing in Episode 0274 to perform on the street.
Born in Vienna, Austria, Bikel's early theatrical training included co-founding the Israeli Chamber Theatre and studying at the Royal Academy of Dramatic Art. Moving to the United States in the 1950s, Bikel soon established himself on stage and film, in addition to performing as a folk singer and storyteller at cafes and clubs. Notable film highlights include The African Queen (in a small role as a German ship's officer), My Fair Lady (as Zoltan Karpathy), The Defiant Ones (netting an Academy Award nomination for Best Supporting Actor as the pursuing sheriff), and The Russians Are Coming, the Russians Are Coming (as Alan Arkin's incautious submarine commander).
On stage, Bikel played Captain Von Trapp in the first Broadway version of The Sound of Music, among other credits. TV appearances, dating back to the days of experimental dramatic series, include Studio One, Playhouse 90, The Twilight Zone, Gunsmoke, Mission: Impossible, Columbo (as the guest killer), The Amazing Spider-Man, Murder, She Wrote, Law & Order, Star Trek: The Next Generation (as Worf's adoptive father), and JAG, among many others.
External links
Community content is available under
CC-BY-SA
unless otherwise noted.