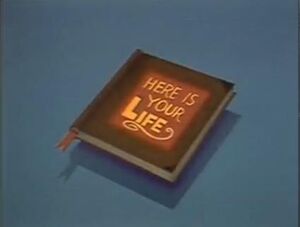 This Is Your Life was a long-running television show created and hosted by Ralph Edwards. In each show, an unsuspecting person would be surprised with their life story (narrated by Edwards from a book), as friends, family, and others from their past would come forth (preceded by their voice, which the guest was asked to guess). Edwards began the series on radio in 1948, which after two short-lived runs moved to television in 1952, remaining until 1961 (with sporadic revivals and specials through the 1980s).
A British television version launched in 1955.
References
The Guy Smiley "Here is Your Life" sketches on Sesame Street parodied the format, down to "see if you recognize this voice" and surprise individuals previously thought lost (in this case, often converted into furniture or modern art).
Community content is available under
CC-BY-SA
unless otherwise noted.