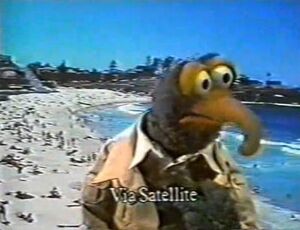 This Is Your Life was a British television series, adapted from the American series of the same name, airing from 1955 to 1964, and then a longer-running revival from 1969 through 2003. The format was largely the same, with the host (usually Eamonn Andrews) reading from a large book as people from the subject's life were brought forth.
The December 8th, 1982 broadcast, the guest/subject was actor Lewis Collins, who was known for his action roles (and at the time, still starring on ITV's The Professionals). Host Andrews reveals that Collins' favorite showbiz personality "is in fact a Muppet," Gonzo. He says he even has his own Gonzo replica at home. This leads into a surprise "first ever Muppet by satellite" greeting from Gonzo himself, played by Dave Goelz in new footage. A snippet of "The Muppet Show Theme" plays as Gonzo's introductory vamp.
The "satellite" feed is actually pre-taped footage of Gonzo (wearing his outfit from The Great Muppet Caper) in front of a beach backdrop (purportedly Melbourne, Australia). Gonzo greets Lewis Collins and says he could tell that Collins modeled his Professionals character after the Great Gonzo. He wishes he could be there in person, but has to cut the visit short since he has a date with an unseen kangaroo.