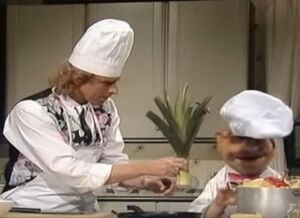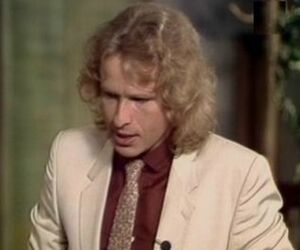 Thomas Gottschalk (b. 1950) is a German television personality and actor, best known for hosting talk shows such as Wetten, dass..? (1987-2011). He hosted Na sowas! (1982-1987), including a 1986 appearance by Jim Henson and the Swedish Chef. Gottschalk did a cooking bit with the Chef, talked to his German voice Eberhard Storeck, and interviewed Henson.
Previously, Gottschalk had guest starred on Sesamstrasse, the German co-production of Sesame Street, in 1981. He played Herr Meier, a toy salesman who brings a toy robot for Samson and Tiffy to try.[1] He later dubbed Hubble in the Jim Henson Company movie Good Boy!
Gottschalk began his media career in the 1970s, as a radio disc jockey (gaining enough attention to cameo as DJ in films and make a guest appearance on a BBC radio series).
Gottschalk starred or co-starred in several German comedy movies. Between 1989 and 1992, he also appeared in a spate of Hollywood films, mostly comedies, including a starring role in Driving Me Crazy (with Billy Dee Williams and Dom DeLuise), Think Big (with Richard Moll), Sister Act 2: Back in the Habit (with Whoopi Goldberg, as sausage-focused cook Father Wolfgang), and the TV movie Ring of the Musketeers (as one of the modern day Musketeers, with David Hasselhoff, Cheech Marin, and Alison Doody as the others). More recently, he had a part in Zookeeper (2001, with Kevin James).
On German television, his more recent series include hosting Die 2 - Gottschalk & Jauch gegen alle (2012-2015).
Sources
↑ Sesamstrassen Fanclub. 80s Guests.
External links