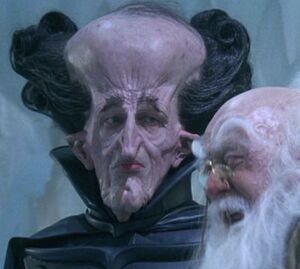 Thomas Petruo (1956-2018) was a German actor and voice artist who appeared under heavy make-up in the Creature Shop-effects film The Neverending Story III as Large Head. He also dubbed several guest roles on Die Dinos (Dinosaurs), mostly TV personalities.
The son of German voice actor Heinz Petruo, Thomas Petruo began dubbing in the 1970s and also appeared periodically on German TV (including the TV movie Mrs. Harris - Freund mit Rolls Royce with Inge Meysel). His other English-language co-productions were Enemy at the Gates (with Jude Law) and The Tigress (with Georg Tryphon). As a voice actor, Petruo dubbed Thomas F. Wilson in the Back to the Future trilogy, Gary Oldman in Dracula and others, Ice-T several times, Thomas Haden Church four times, Giancarlo Esposito in Do the Right Thing and on The Get Down, and Aaron Eckhart on Thursday. He dubbed LeVar Burton and other guest stars on The Love Boat, Emilio Delgado in one of his Lou Grant appearances, and multiple guests on various CSI series, Star Trek: Deep Space Nine and Voyager, Matlock, The X-Files, and Tales from the Crypt.
Cartoon roles included Lex Luthor on Justice League and in direct-to-video features and video games, Plankton on SpongeBob SquarePants, Baggy Beagle on DuckTales, a tramp in the German animated feature Boo, Zino and the Snurks, and various bits on The Flintstones.
On the set of The Neverending Story Part III, the mask he wore as Large Head took four hours to apply. Petruo was not allowed to sit anywhere where the mask could be damaged otherwise they would have to delay shooting. Despite this, he had a lot of fun in the role. He was able to go to London twice to have the mask customized. He was enthralled with Jim Henson's Creature Shop and witnessed first-hand the models and figurines being made.
Creature Shop dub credits
External links
Community content is available under
CC-BY-SA
unless otherwise noted.