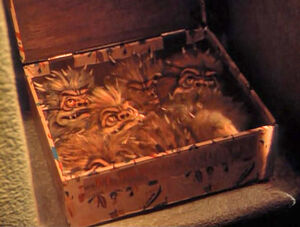 Thornoids appeared on Dinosaurs in "Steroids to Heaven." Thornoids are tiny, aggressive creatures with spikes all over their body. Dinosaurs consume them in order to increase their muscle mass and strength. The creatures are living allegorical representations for anabolic steroids.
Side effects include the growth of spikes on unexpected places, as Robbie Sinclair finds out when he steals Thornoids from his schoolmate Dolf.
Two of the Thornoid puppets were reused in "The Terrible Twos," floating around the twisted room of two year old Baby Sinclair.
Community content is available under
CC-BY-SA
unless otherwise noted.