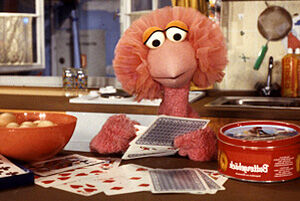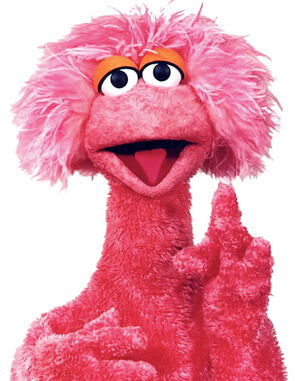 Tiffy is one of the original Muppet characters created for Sesamstrasse, the German co-production of Sesame Street, appearing on the show from 1977 until the character's retirement in 2005.
Appearance
For a visual guide to the changes, see Tiffy Through the Years.
Tiffy is a pink creature with a beak-like mouth and a big tuft of pink hair. She was originally a bird character, designed by Kermit Love, and retained a very similar look for roughly the first 17 years on the show, despite a small update of the puppet in 1989 due to a fire at the NDR studio in 1988.
In 1995, when the show was revamped for the third time, Tiffy underwent a major design change and her original silk-like tulle hair was changed to more fuzzy hair. When the puppet received yet another small visual update in 2000, she was officially changed into a "Monster-Child." Overall, she retained a similar look for her final 10 years on the show.
Personality
Tiffy is very clever and often helps her best friend Samson when he has a problem. She originally collected alarm clocks and snow globes, and was good at repairing things.
When she became a more wild mannered "Monster Child" in 2000, this was done in order to make her more relatable for children. She represented the psychological age of a six-year-old.
History
Tiffy has been a main character on Sesamstrasse since the German street sequences began in 1978. Her original performer was Kerstin Siebmann-Röders (who was married to Samson's original performer Peter Röders), with Martina Klose manipulating both hands.
After the NDR studio burned down in 1988, Marita Stolze took over the character. The character's right hand was initially played by Karime Vakilzadeh, and starting in 1993, by Charlie Kaiser.
In 2001, puppeteer Sabine Falkenberg, who also voiced Elmo in German at the time, became the new performer for Tiffy.
In 2005, after having been on the show for 27 years, Tiffy was dropped in order to allow the introduction of Moni and her daughter Lena,[1] although it was originally believed the puppet was to be repaired and the characters were stand-ins for the time being, only for Tiffy to never return.
Trivia
See also
Sources
Community content is available under
CC-BY-SA
unless otherwise noted.