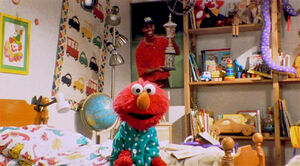 Tiger Woods (b. 1975) is an American golfer who is one of the most successful professional golfers of all time.
References
Miss Piggy appeared on The Wendy Williams Show where she commented about Kermit's faithfulness, in contrast to Tiger Woods: "My Kermie is nothing like him, I just want to say. He would never do anything untoward moi... BUT! If he did, you can rest assured there'd be a hole in one, and he'd be the one!"
Tiger Woods was included on CDE's chart of the "Top 100 Things in Popular Culture" that was shown to the Muppets by Veronica in 2011's The Muppets. He appeared in one of the outermost circles, along with Donald Trump, Lindsay Lohan, Simon Cowell, Uggs, Sarah Palin, MySpace, and (appearing as a "tiny speck" off the chart) the Muppets.
External links
Community content is available under
CC-BY-SA
unless otherwise noted.