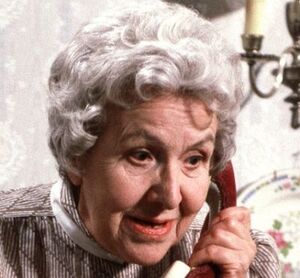 Tilli Breidenbach (1910-1994), also spelled Tilly Breidenbach, was a German actress who dubbed Hilda on Die Muppet Show (The Muppet Show).
Breidenbach was a veteran of the German theater (playing Gertrude in Hamlet and similar parts) who began appearing on television in the 1960s. In dubbing, she voiced the spider Grimelda on Maya the Bee and Peter's grandmother on the Heidi anime, as well as actresses Ruth Gordon in Any Which Way You Can and Margaret Rutherford in The Magic Box.
On television, she played Lydia Nolte, grande dame mother-in-law, on the soap opera Lindenstrasse (1985-1993, when health issues forced her retirement). She also made appearances on Tatort, Zimmer 13, and the TV movies Martin Luther and Titanic.
External links