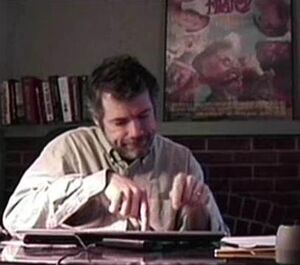 Tim Burns is a Canadian television writer and producer who was a staff writer for The Jim Henson Hour in 1989, working on the "MuppetTelevision" segments. He also scripted the "Dog City" episode and co-wrote the songs.
Burns co-wrote the teleplay for the 2015 TV movie Jim Henson's Turkey Hollow along with Christopher Baldi (based on an unproduced script by Jim Henson and Jerry Juhl, with additional story notes by Kirk Thatcher).
Burns co-wrote the screenplays for the films Freaked (with Brooke Shields and Mr. T) and An American Werewolf in Paris. He wrote the pilot movie for the Teletoon/Disney Channel series My Babysitter's a Vampire and became executive producer/show runner for the series, as well as scripting episodes. He also wrote for Star Wars: The Clone Wars, was supervising writer on the third season of Crank Yankers, and wrote songs for The Sunny Side Up Show.
External links