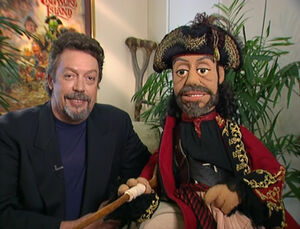 Tim Curry (b. 1946) played Long John Silver in the 1996 film Muppet Treasure Island and provided a number of character voices for the TV series Dinosaurs. Curry also reprised his role as Long John Silver in the Muppet Treasure Island CD-ROM game.
From a promotional interview with CNN: "When they were negotiating the movie, I said, you know, 'What's the billing going to be?' And they said, 'First among humans.' And I want that in the future on all films, I think." At the conclusion of filming, Curry was given a Muppet caricature of himself as a gift for making the movie.
In 1996, the actor contributed a "Lemon-Stuffed Roasted Chicken" recipe for Miss Piggy's cookbook, In the Kitchen with Miss Piggy. Later in 2006, he narrated the direct-to-video production, A Sesame Street Christmas Carol.
In 1998, Curry starred in an unaired pilot Madness Reigns produced by the Jim Henson Company, playing an exiled king with Henson puppets in the supporting cast.
His numerous non-Muppet credits include Dr Frank'n'Furter in The Rocky Horror Picture Show and Roger Corwin in the 2000 feature film adaptation of Charlie's Angels, while his stage credits range from The Pirate King in The Pirates of Penzance (at Drury Lane in 1983), to Spamalot (in Chicago, Broadway and the West End).
Credits
Dinosaurs voices
External links