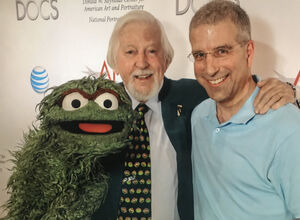 Tim DeHaas served as an additional puppeteer on The Muppets Take Manhattan.
DeHaas's contributions to the film include performing Janice in the group scene at Pete's Luncheonette near the end of the film, performing Bunsen and Beaker backstage at Manhattan Melodies, and performing one of the singing wedding veils in the "Somebody's Getting Married" number, and performing Muppet asparagus for a line that was deleted from the final cut of "He'll Make Me Happy." On his first day of work on the film, DeHaas operated Kermit the Frog's right hand for a scene in which Kermit played the banjo.[1]
Prior to his experience on The Muppets Take Manhattan, DeHaas worked as a puppeteer on local television in Bangor, Maine.[2]
DeHaas commented on the experience in Starlog: "I was a Muppeteer for The Muppet Take Manhattan. I did some research, called up the Muppets people and asked, 'What do I have to do?' I went though an audition process, sent a videotape and got invited to audition. The next thing I knew, I was doing Kermit the Frog with Jim Henson in the scene. It was incredible. The experience of doing that was a significant boost to my confidence."[3]
Sources
↑ Grosswiler, Paul. "Hobby leads puppeteer to the Muppets." Bangor Daily News. Oct 1-2, 1983
↑ "Alien Dreams," Starlog, September 1993.