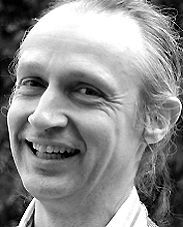 Tim Gosley is a Canadian puppeteer who has worked on several Muppet productions. Gosley studied theater at the University of Alberta, earning a BFA in acting. He soon shifted to puppeteering, and in 1981, he was one of several Canadian artists who trained with Richard Hunt to appear on Fraggle Rock. He performed various minor characters in the series, and in Muppet specials shot in Toronto. In 1987, he landed his first major Muppet character, Basil the polar bear, who he would play for nine seasons on Sesame Park, the Canadian version of Sesame Street.
Gosley's other puppetry work includes his touring one-man show based on The Ugly Duckling. In television, he has performed on Blizzard Island, Iris the Happy Professor, and Caillou. Gosley went on to write for several animated series, including Fix & Foxi.
Gosley applied to become a puppeteer at Canada's Wonderland in 1981, but didn't get the role. Wonderland is where the Fraggle Rock episode 105 "Postcards from Traveling Matt" was filmed in the years later.
Muppet credits
Sources
C.P. "Anonymous Star Likes it That Way." The Globe and Mail (Canada). January 3, 1989