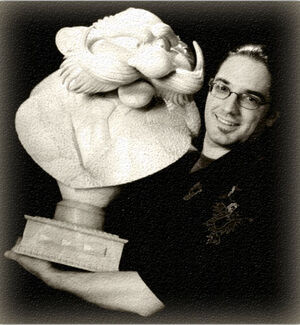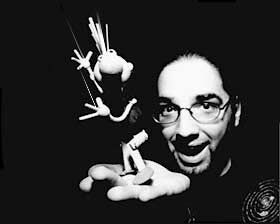 Tim Lagasse is an award-winning puppeteer, puppet designer/fabricator, and film maker.
He earned his BFA from The University of Connecticut's Puppet Arts Program. Upon graduating, he became the first student to receive the Jim Henson Memorial Prize in Puppetry. His series A Show of Hands (which he wrote and puppeteered) won him a number of awards as well. Lagasse acts as a puppeteering consultant, and creates puppet films for stations like PBS, MTV, HBO, and Nickelodeon. He played puppet lead Crash on the Disney XD series Crash & Bernstein. He enjoys performing puppetry for a more mature audience also, and does so at various puppet events and slams across New York and New England.
In addition to his performance credits, Tim also teaches the art of puppetry, lecturing at the Lincoln Center Foundation and instructing students on modern television puppet techniques at the Puppet Arts Program at the University of Connecticut and the O'Neill Theatre Center Puppetry Conference.
Muppet/Creature Shop credits
Bear in the Big Blue House: Jet Setter Tutter, Ensemble Puppeteer
The Wubbulous World of Dr. Seuss: Fox in Socks (Season 2), Junior Kangaroo (Season 2), Annoying Greebles, Bunky Balaban, The Clam, Eskimo Kid, Mr. Moriarty Seagoon Eccles, Old Man Time, Scotty, Sid Spider, The Speaker, others
Kermit Channel Promo: Stu the Janitor
The Producers: Pigeons
The Muppets (2015): Additional Muppet Performer
Non-Henson Credits
Oobi: Puppet Coordinator, Oobi
Between the Lions: Barnaby B. "Buster" Busterfield III, Artie Smartypants, Gus the Bunny, Watson the Duck, Theo Lion (Substitute for season 3 only)
Blue's Room: Polka Dots, Puppet designer and builder
Johnny and the Sprites: Basil
Allegra's Window: Mr. Cook, Tweeter
It's a Big Big World: Ick and Wartz, director for some episodes
The Book of Pooh: Ensemble puppeteer
Imagination Movers: Warehouse Mouse puppet designer
Once Upon a Tree: Jasper the Hare, Bleu the Cricket
Crash & Bernstein: Crash
Helpsters: Scatter, puppet captain
Sources
External links
Community content is available under
CC-BY-SA
unless otherwise noted.