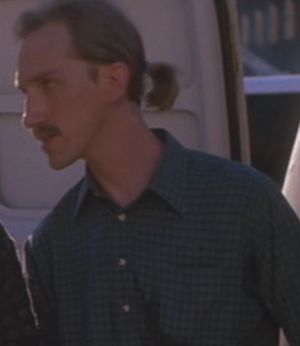 Tim Parati is an actor who had a small role in the 1991 Creature Shop-effects film Teenage Mutant Ninja Turtles II: The Secret of the Ooze, as a member of April's news crew. A native of North Carolina, Parati later served as an additional Muppet performer on Muppets from Space and The Adventures of Elmo in Grouchland (both filmed in that state).
Parati is active in theater in North Carolina, including the Children's Theatre of North Carolina (designing and painting sets, among other duties). He has frequently appeared in Hollywood film and TV projects, however, usually in character roles. His height, thin frame, and often long haired or bearded appearance led to many roles as sketchy types, as in The Program (steroid dealer), The Crow (credited as "bad ass criminal"), and A Time to Kill (Klan sympathizer Winston). Other small roles, slightly less seedy, include a magazine staffer in The People vs. Larry Flynt, a pig farmer in The Great Debaters (with Denzel Washington), and a bus station worker in Safe Haven.
Parati has had larger roles on television, recurring on Army Wives as cook Chief. He has acted in recent period dramas, playing Caesar Rodney in the 2008 HBO miniseries John Adams and appearances on TURN: Washington's Spies and the PBS Civil War series Mercy Street. Other TV credits include HBO's From the Earth to the Moon (with Tom Hanks) and guest parts on The Walking Dead, Walker, Texas Ranger, C15: The New Professionals (with Edward Woodward), and One Tree Hill.
External links
Community content is available under
CC-BY-SA
unless otherwise noted.