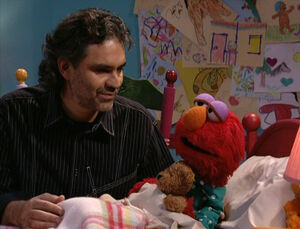 "Time to Say Goodnight" is a Sesame Street song that parodies "Con te partirò" (also known as "Time to Say Goodbye").
Andrea Bocelli sang most of the song to Elmo as a bedtime lullaby to help him fall asleep. The lyrics have been adjusted from the original (made famous as a duet by Bocelli and Sarah Brightman) to tell the story of Elmo's long, eventful day which has now come to an end. It also becomes a duet when Elmo sings a few lines as well. Unfortunately, Elmo's time in the dream world does not last long, as Bocelli's continued (albeit louder) singing awakens him.
Notes
Two different takes were filmed for the last two shots: one where Elmo has eyelids and another where he has no eyelids. The former eyelids variation can be found on Bedtime with Elmo.
Releases
Video
Online