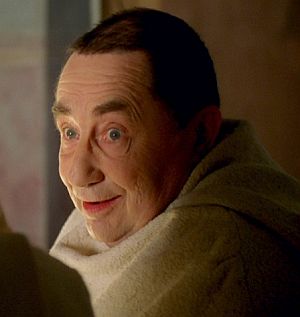 Timothy Bateson (1926-2009) was a veteran British character actor, with more than 50 films and 100 television appearances in a career spanning six decades. Bateson supplied several character voices in Labyrinth, as the Worm, one of the Four Guards, and several goblins. He appeared on-camera as Father Abbott in the Creature Shop-effects TV movie Merlin.
Bateson's film career included appearances in many Dickens adaptations, from Nicholas Nickleby in 1947 to Roman Polanski's Oliver Twist (2005), with TV versions of Bleak House, Barnaby Rudge, David Copperfield, and A Christmas Carol coming in between. Often cast as a lackey or office type, Bateson appeared in the comedies The Mouse That Roared (as an eager young soldier opposite Peter Sellers), The Wrong Box (a cameo as a nasal legal clerk), and the Wodehouse adaptation The Girl on the Boat, as well as the original 1969 version of The Italian Job and the 1998 version of Les Miserables with Liam Neeson. His final film role was supplying the voice of Kreacher in Harry Potter and the Order of the Phoenix.
On television, Bateson was a regular on Grange Hill and appeared on As Time Goes By, The Bill, All Creatures Great and Small, The Avengers, and Doctor Who, as Binro the Heretic in the 1978 serial "The Ribos Operation." The actor played Lucky in the 1955 London version of Waiting for Godot and was equally prolific in BBC Radio, appearing in still more Dickens, Agatha Christie's Murder at the Vicarage, and playing Beach the Butler opposite Richard Vernon's Lord Emsworth in Wodehouse's Summer Lightning. In a 1991 interview with The Independent, Bateson reflected on live radio as a medium: "Words is all you need. The text is not a nuisance. There's no mystique about radio acting - it's about acting and it really sorts out who can and who can't. It's just quicker, and it's very tiring because you've got to know all the time what you're saying and thinking and you've only got a very short time. You can't just give a reading."
Bateson also supplied voices for several characters in the 1980s childrens television series TUGS (with Don Austen).
External links
Community content is available under
CC-BY-SA
unless otherwise noted.