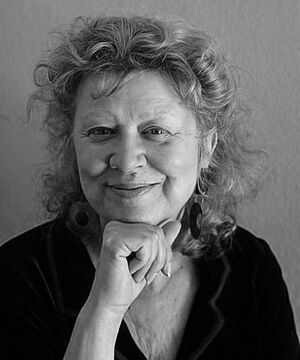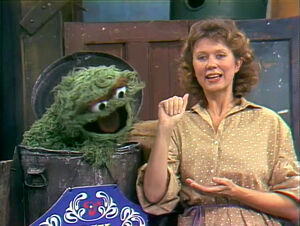 Timothy Near (b. 1945) is an actress who played Timi in a recurring role on Sesame Street.
The daughter of Anne and Russell Near, and sister to Holly and Laurel, Timothy Near was born in Ukiah, California where she began performing in talent shows at a young age.[1][2] She received a BA in Drama from San Francisco State University and attended the London Academy of Music and Dramatic Art in the foreign exchange program.[3]
Before she was cast on Sesame Street, Near had appeared on Captain Kangaroo with deaf actor and producer Julianna Fjeld, demonstrating communication through sign language.[4] Her career as a professional theatre director began in the early 1980s in Webster Groves, Missouri where she helmed several productions at the Loretto-Hilton Repertory Company and the Repertory Theatre of St. Louis.[5] From 1987 to 2008, she served as the Artistic Director of the San Jose Repertory Theatre[3] where she also directed several productions.[5]
Her credits include adapting A Christmas Carol with Rae Allen which featured dancers from Pilobolus stacked atop one another as The Ghost of Christmas Present, and huge marionettes from the Bread and Puppet Theater.[6] She also turned her sister Holly's autobiography, Fire in the Rain...Singer in the Storm, into a one-person musical which was performed at The Mark Taper Forum in Los Angeles, California, and at the off-Broadway Union Street Theater in New York City.[1]
As a performer, Near entertained at prisons with her sisters, and they later formed the "very tacky" cabaret act called Fluffy, Babe, and Pearl. The trio split up when Timothy left to join the National Theatre of the Deaf.[7] Performing with the group for two years,[8] Near described the experience as "putting your voice into someone's soul": "I really believe it's an inherent need to get sensual pleasure from communication. We get a sensual pleasure from talking, but if you can't hear and are mouthing the sounds, it's just a skill. For deaf people, sign language can be a sensual experience."[9] She also won an Obie Award for her performance in Emily Mann's off-Broadway show Still Life.
Sources
↑ 1.0 1.1 Harvard University Library Additional papers of Holly Near
↑ Ukiah Daily Journal (Ukiah, California) "Miss Timi Near in Talent Show" August 3, 1960
↑ 3.0 3.1 LinkedIn Timothy Near
↑ Gallaudet University Archives The Julianna Fjeld Papers
↑ 5.0 5.1 abouttheartists.com Timothy Near Performance Credits
↑ Hartford Courant (Hartford, Connecticut) December 16, 1977
↑ Hartford Courant (Hartford, Connecticut) October 10, 1984
↑

Star Tribune (Minneapolis, Minnesota) February 21, 1986

↑

St. Louis Post-Dispatch (St. Louis, Missouri) January 21, 1976
Community content is available under
CC-BY-SA
unless otherwise noted.