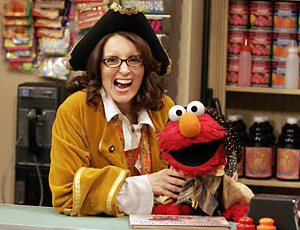 Tina Fey (b. 1970) is an American writer, comedian and actress. Fey served as cast member, head writer and Weekend Update anchor on Saturday Night Live between 1997 and 2006. She currently co-produces, writes, and stars in the NBC comedy 30 Rock.
Fey guest starred on Sesame Street Episode 4135 as the captain of the Bookaneers.
Her 30 Rock likeness Liz Lemon was parodied as an actual lemon in a season 39 parody 30 Rocks.
During the April 11, 2007 episode of Late Night with Conan O'Brien, Fey revealed that she had filmed a segment for the upcoming 38th season of Sesame Street. Fey talked with host Conan O'Brien about her (and her daughter Alice Zenobia's) love for Sesame Street. Fey also shared with O'Brien her rediscovery of classic Sesame Street episodes through the Old School: Volume 1 DVD box set; she expressed similar thoughts in a Summer 2007 interview with TV Guide:
"

I've become obsessed with the DVD set Sesame Street: Old School. It's fantastic because it makes you [remember] all these things implanted in your brain... like "The Ladybug's Picnic" and "The Alligator King".

"
External links