Line 11:
Line 11:
 

{{quote|I've become obsessed with the DVD set ''Sesame Street: Old School''. It's fantastic because it makes you [remember] all these things implanted in your brain... like "[[Ladybugs' Picnic|The Ladybug's Picnic]]" and "[[The Alligator King]]".}}

 

{{quote|I've become obsessed with the DVD set ''Sesame Street: Old School''. It's fantastic because it makes you [remember] all these things implanted in your brain... like "[[Ladybugs' Picnic|The Ladybug's Picnic]]" and "[[The Alligator King]]".}}

 
 
−

Fey also referenced ''Sesame Street'' in her 2011 book ''Bossypants'' in her advice for overcoming obsticles of discrimination in the workplace stating:

+

Fey also referenced ''Sesame Street'' in her 2011 book ''Bossypants'' advice for overcoming obsticles of discrimination in the workplace stating:

 

{{quote|I suggest you model your strategy after the old ''Sesame Street'' film piece "Over! Under! Through!" (If you're under forty you might not remember this film. It taught the concepts of "over," "under," and "through" by filming toddlers crawling around an abandoned construction site. They don't show it anymore because someone has since realized that's nuts.)<ref>Fey, Tina. ''Bossypants'' page 145</ref>}}

 

{{quote|I suggest you model your strategy after the old ''Sesame Street'' film piece "Over! Under! Through!" (If you're under forty you might not remember this film. It taught the concepts of "over," "under," and "through" by filming toddlers crawling around an abandoned construction site. They don't show it anymore because someone has since realized that's nuts.)<ref>Fey, Tina. ''Bossypants'' page 145</ref>}}

 
 
---
Revision as of 13:27, 10 June 2011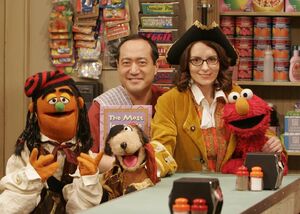 Tina Fey (b. 1970) is an American writer, comedian and actress. Fey served as cast member, head writer and Weekend Update anchor on Saturday Night Live between 1997 and 2006. She currently co-produces, writes, and stars in the NBC comedy 30 Rock.
Fey guest starred on Sesame Street Episode 4135 as the captain of the Bookaneers.
Her 30 Rock character, Liz Lemon, was parodied on Sesame Street as an actual lemon in a season 39 parody entitled 30 Rocks. Additionally an Anything Muppet caricature of Fey appeared in the 30 Rock episode "Apollo, Apollo."
During the April 11, 2007 episode of Late Night with Conan O'Brien, Fey revealed that she had filmed a segment for the upcoming 38th season of Sesame Street. Fey talked with host Conan O'Brien about her (and her daughter Alice Zenobia's) love for Sesame Street. Fey also shared with O'Brien her rediscovery of classic Sesame Street episodes through the Old School: Volume 1 DVD box set; she expressed similar thoughts in a Summer 2007 interview with TV Guide:
"I've become obsessed with the DVD set Sesame Street: Old School. It's fantastic because it makes you [remember] all these things implanted in your brain... like "The Ladybug's Picnic" and "The Alligator King"."
Fey also referenced Sesame Street in her 2011 book Bossypants when giving advice for overcoming obsticles of discrimination in the workplace stating:
"I suggest you model your strategy after the old Sesame Street film piece "Over! Under! Through!" (If you're under forty you might not remember this film. It taught the concepts of "over," "under," and "through" by filming toddlers crawling around an abandoned construction site. They don't show it anymore because someone has since realized that's nuts.)[1]"
External links
↑ Fey, Tina. Bossypants page 145
Community content is available under
CC-BY-SA
unless otherwise noted.