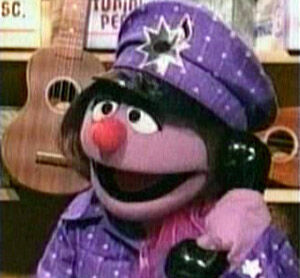 Tiny Tim (born Herbert Khaury, 1932-1996) was an American singer and ukulele player. Tim is best remembered for his rendition of "Tiptoe Through the Tulips" sung in a high falsetto voice. A novelty act, his appearances on Rowan & Martin's Laugh-In led to a recording contract with Reprise Records and appearances on other variety shows of the time, including The Hollywood Palace and Toast of the Town. But it was his appearances on Johnny Carson's The Tonight Show for which he is best remembered. It was on one of these appearances that he married Victoria Mae Budinger, known as Miss Vicki, in a publicity stunt that attracted 40 million viewers.
Tim and Victoria were spoofed in episode 4069 of Sesame Street with the character of Miss Vicki, who works for Tiny Tim's Uke Repair.
During a verse of Cabin Fever in Muppet Treasure Island, Angel Marie emulates Tim, complete with uke and falsetto voice.
External links