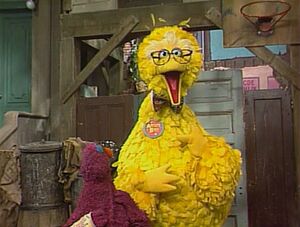 "Tips for Tots" is an unproduced Sesame Street sketch written by Joseph A. Bailey from approximately 1975. The segment's intention was to teach children a complicated formula, using simple letters and numbers, which would then spark praise when the child is able to recite it to others.
In the sketch, Big Bird, armed with a piece of chalk, writes out the letters and numbers that make up Albert Einstein's equation for the mass–energy equivalence, E=mc².
Bailey submitted the script to Jon Stone, who enjoyed it and added a punchline. However, the show's Research Department passed on it, claiming the segment focused more on the equation itself and neglected to explain its meaning.
Sources