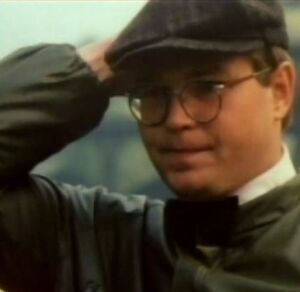 Tobias Meister (b. 1957) is a German actor and voice artist. He appeared on Sesamstrasse in the 1980s, in a series of "Letter Detective" film inserts. Meister played assistant Ludwig Lupe, who aided Humphrey Gocart Jr. (Horst Pinnow) in locating letters.
In addition to appearances in German film and television, Meister is also an active voice actor, notably dubbing Darth Maul in Star Wars Episode 1: The Phantom Menace and Yoda in the subsequent films. He also voiced the Yoda Muppet in the German dub of It's a Very Merry Muppet Christmas Movie, and dubbed Mark Addy as Mac MacArthur in Jack Frost.
Meister has dubbed such actors as Brad Pitt, Tim Robbins, Sean Penn, Kiefer Sutherland (on 24 and in films), Robert Downey, Jr., Oliver Platt, Andy Richter, and Ralph Fiennes. His animation dub credits include Baby Herman in Who Framed Roger Rabbit, Moses in Prince of Egypt, the griffin in Quest for Camelot, and Big Time Beagle on Disney's DuckTales.