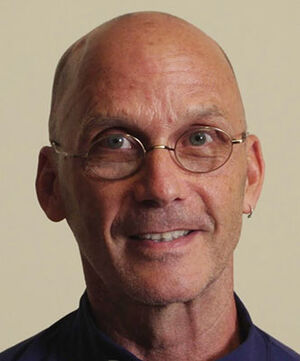 Toby Towson is a gymnast (a former NCAA men's gymnastics champion) and dancer who did a stint on Sesame Street as the original performer of Barkley for initial appearances in seasons 9 and 10 and in A Special Sesame Street Christmas. Brian Muehl and others later took over the role. Towson has had a career in gymnastics, acrobatics, and dance.
Through a personal friendship with the Henson family, Towson was hired to model for the building of a new full-body Muppet character. According to Towson, the character was originally conceived as an ape-like creature that could do acrobatics, but as the costume was designed, the writers changed it to a large furry dog whose original name was "Woof Woof." The name was used for the character's first appearances in episodes 1177 and 1184, but was changed to "Barkley" in the premiere episode of Season 10. Since Towson was comfortable in the costume, Henson offered him a one year contract to be on call for Children's Television Workshop, and Towson appeared as Barkley for several months until Muehl took over.
As of 2003, Towson is living with his wife, Kathryn Talbott, in Boonsboro, Maryland. He has a B.A. in Psychology from Michigan State University and a Masters in Education from University of Maryland.[1]
Sources
External links
Community content is available under
CC-BY-SA
unless otherwise noted.