Written by
Jeff Moss
Date
1984
Publisher
Muppet Music, Inc, adm. by Cherry Lane Music
Fuzzy Muppet Songs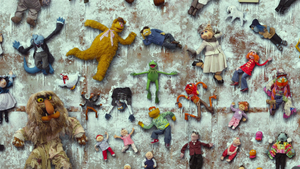 "Together Again" is an original song written for The Muppets Take Manhattan as one of the musical numbers in the Muppets' Broadway show, Manhattan Melodies.
At the beginning of The Muppets Take Manhattan, Kermit the Frog sings "Together Again" with Miss Piggy, Fozzie, Gonzo, Scooter, Rowlf, Camilla, and musical accompaniment by Dr. Teeth and the Electric Mayhem.
The song is reprised during a carriage ride through Central Park after Kermit and Piggy have reunited, and again over the end credits of the movie with "Saying Goodbye."
Although "Together Again" was the closing number of Manhattan Melodies when the Muppets performed it at Danhurst College, the closing number of the show is "The Ceremony" when it opens on Broadway.
Part of the end credits version was heard in a video montage honoring Jim Henson as a Disney Legend at the 2011 D23 Expo. A similar arrangement was performed at Jim Henson's Musical World.
The song is referenced twice in The Muppets: When Tex Richman learns that the Muppets have banded together again, Bobo and Uncle Deadly begin to sing a bit of the song before getting cut off. Later, Walter is heard whistling and playing the opening on a piano backstage.
An updated version of the song appears as the finale of 2014's Muppets Most Wanted as the cast sings about being together again... again.
Releases
Audio
External links