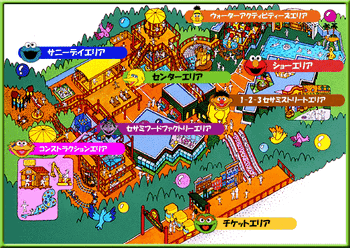 Tokyo Sesame Place is the Japanese Sesame Place theme park formerly located in Tokyo. The park first opened in 1990 and closed on December 31, 2006. To enter the theme park, visitors went on a long escalator ride through a steep hill all the way to the top in front of a giant Big Bird head, with Big Bird's mouth as the entrance.
Walk-around characters included Big Bird, Cookie Monster, Elmo, Ernie, Bert, The Count (first appeared in late 1990s) and Zoe (first appeared in early 2000s). The characters' voices were dubbed by Japanese voice actors, including the ones from NHK's dubbed version of Sesame Street.
Mojabo and Teena from the Japanese co-production of Sesame Street also appeared in the park near the end of its run.
The reason for Tokyo Sesame Place's closure is presumably due to the Sesame Street characters having more success at Universal Studios Japan since 2003.
Merchandise