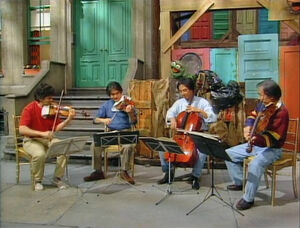 The Tokyo String Quartet have appeared on Sesame Street in several segments.
One involves the ensemble tuning up outside of Oscar's trash can. Oscar loves the dissonant sounds of the instruments, but when they start playing a classical piece, he's disgusted and asks them to tune up again.
Another is a segment in which the quartet are shot against a plain blue background and The Count counts them as they disappear and reappear in frame. They appear again in this setting where Big Bird speaks in voice-over about practicing to become musicians, as the members of the quartet are swapped out for kids.
They also appeared playing on the Street as Big Bird and Snuffy danced to their minuet.
The were parodied with the Tokyo Worm Quartet, which performed at the Worm World Music Festival in episode 3448 of Sesame Street.
External links
Community content is available under
CC-BY-SA
unless otherwise noted.