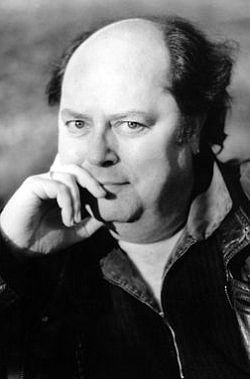 Tom Deininger is a German voice actor who dubbed Fozzie Bear in Das Grösste Muppet-Weihnachtsspektakel aller Zeiten (It's a Very Merry Muppet Christmas Movie) in 2003. He reprised the role in 2011 in Die Muppets, as well as accompanying promotions, viral videos, and the Muppets' 2013 guest spot on Good Luck Charlie. He also dubbed Teurac on Farscape and Elatos in the Creature Shop-effects film The Odyssey.
A heavyset actor, Deininger has often been vocally typecast as similarly hefty performers, as the primary German voice of Wayne Knight, as well as Richard Griffiths and Glenn Shadix (three times each), Stuart Pankin (twice), C. Ernst Harth in Dreamcatcher, John Candy in Once Upon a Crime... and even the puppet Sid the elephant in Meet the Feebles. However, he also dubbed John F. Kennedy in Forrest Gump and Fred Gwynne on The Munsters. Animation roles include Baloo on Talespin, the Chief in Road to El Dorado, Einstein in Oliver & Company, and Marvin the Martian on The Looney Tunes Show.
On stage, Deininger is a member of the Berlin Kriminal Theater (along with Ulrich Voss and others), a group specializing in classic mystery and thriller plays; his repertory roles include Agatha Christie's The Mousetrap (as Major Metcalf) and Witness for the Prosecution (as Inspector Hearne), Edgar Wallace's Der Hexxer (as Samuel Hackitt), and the musical revue Der Mörder ist immer der Gärtner (The Murderer Is Always the Gardener). In addition to many German film and TV roles, he appeared in a trio of English language movies in 1985: The Holcroft Covenant (with Michael Caine), Wild Geese II (with Edward Fox and Patrick Stewart), and Gotcha!
External links