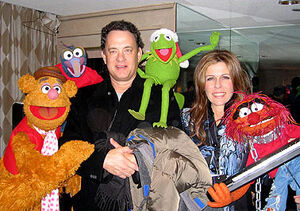 Tom Hanks (b. 1956) is a two-time Academy Award-winning actor and Hollywood movie producer who first gained attention from the 1980s sitcom Bosom Buddies before establishing himself as a leading man in films. He portrayed Professor G.H. Dorr in the Jim Henson's Creature Shop-effects movie The Ladykillers (chasing the animatronic cat Pickles).
Hanks was to appear on Sesame Street in Season 24 waiting for the bus with Big Bird and the kids,[1] but no such segment was aired on the show.
Hanks spoke to Empire magazine in 2012 about his favorite Muppet: "Gotta be Animal. It's always the drummer, man."[2]
In 2019, Hanks was one of the presenters at the Kennedy Center Honors, honoring Sally Field. Later on, during the Sesame Street tribute, Big Bird appears in the aisle looking for his seat and confers with Hanks about a card he's received reading "Thanks." When Big Bird learns Hanks' name, he unsuccessfully tries to fit into his row and even accuses Hanks of sitting in his seat.
Hanks has appeared in Forrest Gump as the title character, the comedic film version of Dragnet, Splash, Apollo 13 (telling the story of the April 1970 NASA mission to the Moon), Steven Spielberg's Saving Private Ryan, and Pixar's Toy Story films (as the voice of Woody). He was the co-producer of Where the Wild Things Are, which had effects provided by Jim Henson's Creature Shop.
References
Tweeting about the Academy Awards on February 28, 2016, Uncle Deadly said of Hanks, "Add wearing a tux to the list of things @tomhanks does extremely well. Along with acting, playing oversized pianos, and Parcheesi." [1]
Sources
External links