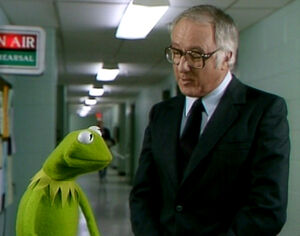 Tom Harvey(1924-2014) was a Canadian character actor and frequent variety show comedy foil. He appeared in The Fantastic Miss Piggy Show as Mr. Kevin T. Gregory, network vice-president, who suffers the wrath of Miss Piggy.
Harvey studied broadcasting at Lorne Greene's Academy of Radio Arts. He was a staple of Canadian TV beginning in the 1950s, often typecast as doctors, lawyers, police officials, and other professionals. He served as a straightman or foil on such series as The Wayne and Shuster Hour and Bizarre and recurred on The Forest Rangers (as bungling Deputy Ranger Brody). Guest appearances included Shelley Duvall's Faerie Tale Theatre, The Ray Bradbury Theater, The Littlest Hobo, and Doc (with Billy Ray Cyrus). He was heard on the 1967 animated Spider-Man series as Electro, the Sandman, Dr. Stillwell, and various other enemies and civilian bystanders.
Harvey also appeared in several prestigious historical dramas, in both Canada and the U.S., including Reluctant Nation (as a CBC reporter chronicling the birth of Canada as a nation), The King Chronicles (as Franklin Delano Roosevelt), and F.D.R.: The Last Year. Film credits include Strange Brew (as the dogged inspector, with Dave Thomas and Rick Moranis), Mrs. Winterbourne, Terminal Choice, Scanners II: The New Order, and Mrs. Soffel (with Matthew Modine and Mel Gibson).
External links
Community content is available under
CC-BY-SA
unless otherwise noted.